Veteran Light
The Low Calorie Feed For Veterans*
New to the Barley & Molasses Free Range, Veteran Light has been specifically formulated for older horses and ponies who are good doers.
Veteran Light provides all the nutritional requirements for optimum health in older horses and ponies yet it has a low calorie/energy level, ideal for those who hold weight well. It is high in fibre and low in starch and sugar, making it suitable for horses and ponies prone to laminitis. Made using only the finest Non-GM ingredients, Veteran Light also includes a unique prebiotic and probiotic blend to help maintain a health digestive system and linseed is added as a source of Omega 3. Veteran Light is highly palatable, even to fussy feeders!

*Within the Barley & Molasses Free Range
Is Veteran Light suitable for my horse?
Veteran Light is ideal for:
- Good doers who need a low calorie feed
- Horses that have suffered from laminitis or at a greater risk of laminitis
- Older horses at rest to light work
- Fussy eaters
- Horses that need a soaked feed
- Horses with intolerances to barley, molasses, alfalfa and/or soya

For your horse to get the full benefit from Veteran Light, please make sure that you do not feed any other products that contain barley or molasses, as these ingredients can cause feed intolerance or behavioural problems. Even horses that do not become fizzy as a result of these ingredients can benefit from a low starch and sugar feed such as Veteran Light.
Feeding Instructions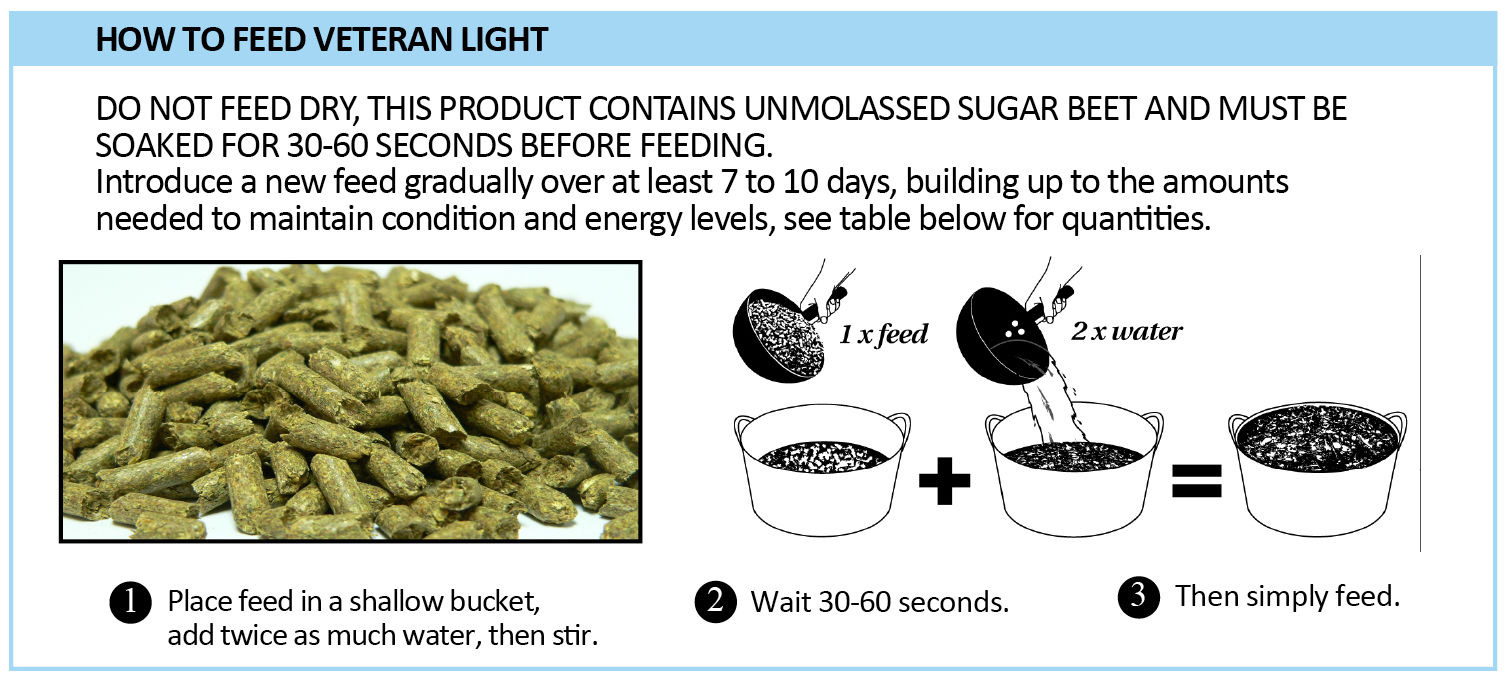 Nutritional Information
Feeding Information

Ingredients
Nutritionally Improved Straw, Grass Meal, Wheat Feed, Linseed Expeller (8%), Beans, Unmolassed Beet Pulp, Di-calcium Phosphate, Calcium Carbonate, Salt, Mint, Yeast, Fenugreek, Seaweed, Nettle, Dandelion, Garlic, Cloves, Fructo-oligosaccharides
VETERAN LIGHT TESTIMONIALS
Veteran Light Testimonial – Red

Red is a 19 year old, 16.2hh ¾ Suffolk Punch, ¼ Friesian gelding. Red is stabled with turn out time and is in light work.

Following being on Veteran Light, Red's owner Yvonne Cobb said "Red's coat is better, general demeanour has improved and energy levels have increased. Red has always had a healthy appetite; this feed not only fills him up but keeps up his water intake as he doesn't like drinking much!"

Veteran Light Testimonial – Dreamer

'My horse Dreamer is a 17 year old cob and I work very hard at keeping her weight at a healthy level. Previously, she was always hungry even straight after her feed, but after having Veteran Light she is fuller for a longer period of time and I have her at her ideal weight. I would definitely recommend this feed'. Lisa Hyde

Veteran Light Testimonial – Kelly Coe Joe

'This is Kelly Coe Joe, a 21 year old Shetland. He has a number of health problems including laminitis, missing teeth and COPD during winter months. He is fed a combination of Fast Fibre, as a partial hay replacement, and Veteran Light to maintain a healthy condition and give him the right amount of energy to make his way round the paradise grazing system.' – Lily Morton
Downloads
Useful Downloads
We have created a number of useful downloads to offer advice and assistance on feeding your horse.
Please click to download a pdf.
About Us
What Makes Us Different?
Allen & Page's mill in Norfolk may well be state of the art, but our company's values and guiding principles are much more traditional. Our innovative, family-owned company has four generations of experience and wherever possible we use natural ingredients of the highest quality in our horse feeds, with no artificial or 'nature identical'* flavours. As you would expect, the mill is entirely drug free.
As a reflection of this fundamental policy, we take proactive steps to ensure that the soya and maize used in our feeds are all grown from non-GM seed. Although these crops cannot be guaranteed, we take every reasonable precaution to ensure that you and your horse have minimal exposure to any possible GM presence.
* Ingredients which are synthetically manufactured to 'mimic' their natural counterparts
When we talk about using natural ingredients of the highest quality in our feeds, what does this really mean?
Firstly, we never use anything that might be originally animal based. We insist on only ever using premium-grade vegetable oils and we don't use fish meal. We also steer clear of gelatine coating for our vitamins – a pork by-product which is commonly used for this purpose. Secondly, we don't use questionable waste products from the human food industry, like biscuit meal.
It goes without saying that all our herbs are actually real herbs and not flavourings. In addition, none of our ingredients (most notably soya) have been extracted using the harsh chemical solvent hexane, a method that is widespread. But don't just take our word for it.
All our feeds are approved by the Vegetarian Society, which only endorses products that are free from animal constituents and are formulated without genetically modified ingredients.
As further confirmation of the highest standards of our production processes, our mill is quality assured and has attained ISO 9001:2000 and ISO 14001:2004 environmental accreditation, as well as being UKASTA Assured and Soil Association Licensed.
NOPS
The British Equestrian Trade Association (BETA) introduced a voluntary code of practice for feed manufacturers in 2009 to reduce the risk of naturally occurring prohibited substances (NOPS) in horse feeds. Substances such as morphine from poppies, hordenine from sprouting barley and theobromine from cocoa products are included within the code, as if they are consumed by a horse, they could show up in dope tests leading to disqualification in competition. Allen & Page manufactures to a strict code of feed safety and monitors for the presence of these substances to ensure the risk of occurrence is minimised.
Our History

Allen & Page was first established as a limited company in 1936 and now has four generations of experience in producing quality horse feed, helping to build the business into the major national feed producer it is today. Although, the Page family had been producing and selling horse feeds for many years before that.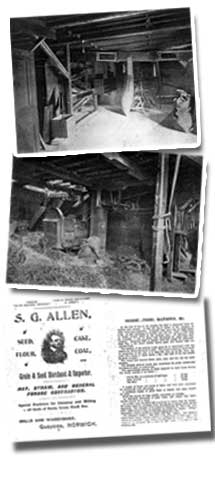 Originally based at the mill at Quayside, Norwich, we quickly became renowned across East Anglia for the high quality feed we produced.
Our ability to be innovative and continually improve has always been something that we value here at Allen & Page, as a part of that process we made the decision to move the business to its current state of the art mill in Shipdham, Norfolk. The new mill has provided us with the technology to produce our feeds, with precision feed blending and in an environmentally friendly way.
More than two decades ago we gained the accreditation of major food production and quality control bodies, including the Vegetarian Society, Soil Association (Organic) and ISO organisations.
This set a standard for us to continue working closely to ensuring the highest quality feed is always produced.
In 2009, Allen & Page was delighted to receive a Royal Warrant from HRH The Prince of Wales.
Looking to the future, we are always investigating new ways to improve and innovate; drawing on the experience and knowledge gained from almost a century of making horse feed.
Our Values
Allen & Page quality horse feeds, the natural choice…
As a horse feed company, our guiding principle and the driving force behind all decisions is to help owners feed their horses as naturally as possible and to make really useful horse feeds to help with specific feeding problems. Everything we do follows from this principle and we blend state of the art technology and nutrition with traditional values and generations of experience to achieve this aim. Making our horse feeds as natural as possible is always our priority, and we have pushed the market forward in using better ingredients and more natural production.
We were the first horse feed company to receive Vegetarian Society approval for our whole range and led the way on only using Non-GM ingredients. As a manufacturer we are also constantly aware of our impact on the environment and our responsibility to produce our feeds in the greenest way possible. Allen & Page are genuinely striving to improve equine nutrition and educate owners. We are not just here to sell feed; it is all about doing the right thing – ethically, nutritionally and environmentally.
Making our horse feeds with natural ingredients wherever possible is always our priority
To find out more about our commitment to making our feeds the natural choice, please click on the links below
Other Allen & Page Quality Horse Feeds
Allen & Page Product Range
Over the years we have constantly added new and improved products to our product range, building on years of experience of producing feeds for horses and ponies all over the country.
Allen & Page provide a full range of feeds, carefully tailored to meet your horse's needs whatever his workload, temperament, or type. From box rest, to feeding foals, to three-day eventing, our range provides a comprehensive selection of balanced, healthy feeds, which are manufactured using only the highest quality ingredients.

Contact Us
Contact the Award Winning Allen & Page
Nutritional Helpline 01362 822 902
If you need feeding advice or have a problem with your horse's condition, health or behaviour the Allen & Page Nutrition Team are available to help, from 8.30am until 5.30pm Monday to Friday.
Please call* our Nutrition Team today on 01362 822 902, or email them on helpline@allenandpage.co.uk
For more general enquiries please contact us on
Reception* 01362 822 900
Fax 01362 822 910
Allen & Page Quality Horse Feeds
Norfolk Mill
Shipdham
Thetford
Norfolk
IP25 7SD
V.A.T. Reg. No: 104 7339 88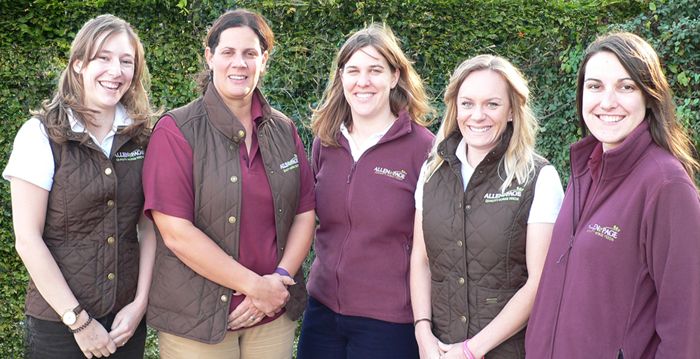 *Please be advised that your call maybe recorded for internal training and quality purposes.